Introduction
Summer is the season of colour and where sharp tailoring is concerned, the warmer months provide an opportunity to embrace a far more distinctive and experimental colour palette than the dark greys, blues and browns of winter suiting. Fresh pastel hues come into their own in the warmer weather and are surprisingly easy to wear. In the right shades, pastel colours make for an elegant, distinguished and yet understated look and offer a sense of confidence; they speak of a man who enjoys dressing well and who is secure and brave enough in his tastes to know how to make a sharp tailored statement in the sun.
The key to wearing pastels well are to keep things simple. Given that your suit (the central element of your outfit) is an unusual colour, allow the colour itself to shine through without adding too many bells and whistles. Compliment your pastel tailoring with simple textured or subtly patterned dark ties and classic pale blue or crisp white shirting. The addition of a pocket handkerchief, nonchalantly stuffed into the breast stand pocket of your jacket will add all the panache that is required for you to look and feel extremely elegant.
With these tips in mind, below are a number of recommendations intended to inspire those of you brave enough to embrace your softer side this season and experiment with some sophisticated pastel summer tailoring.
Inspiration

The Colours
1. Baby Blue
Gentle tones of warm, soft blue are the ultimate in masculine elegance for summer. A pale blue linen, summer-weight wool or white and light blue striped seersucker jacket in a sharp cut makes a great statement without being too unorthodox. Blue is also an extremely versatile colour and will go anywhere and do anything. Mix with navies, whites, pinks and even oranges for a fun, colourful ensemble.
 2. Pastel Pink
Think Jay Gatsby for this look. Thanks to the recent revival of 1920s inspired tailored style, soft shades of pink and lilac have never been a more appealing prospect for a summer soirée. The key to wearing pink is to keep the shade extremely subtle and dusty, avoid hot or bright variations and if in doubt, refer to the film.
3. White
Believe me, white suiting is perfect for supremely hot summer Sundays. Furthermore, there is something hugely satisfying about keeping a lightweight summer suit in your wardrobe for stylish weekends away to tropical climes. Avoid the clichéd Travolta look by opting for a slim, modern cut – don't choose a jacket with large lapels and simply never wear white tailoring with a plain black shirt. If you want to wear black, the gentleman below demonstrates the way to do it right.
4. Soft Brown
Subtle light brown tones have always been a staple colour for summer; light enough to feel summery and distinctive, but whilst also being a safe option for more reserved environments. Light brown suits in fawn, oatmeal and sandy tones mix with blues, creams, whites and navies brilliantly and are an ideal staple business suit for the warmer months.

5. Cream and Ivory
Cream and ivory tones sit somewhere between white and light brown, and so make for another classic option for summer tailoring. If you need a smart-casual ensemble, find yourself some sharp cream trousers, match them with a sky blue shirt and you're away.
Suggestions
1. Ivory linen three piece suit by Brooks Brothers
This Ivory Linen Three Piece Power Suit by Brooks Brothers is the epitome of classical elegance. The light linen cloth and colour are ideal for the summer months and the separate pieces of the suit can be easily mixed and matched to maximize the suit's wearability.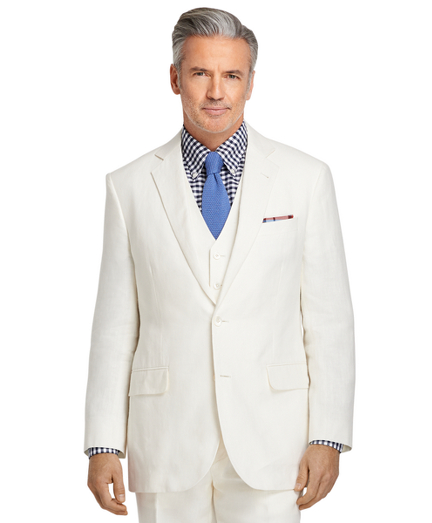 2. Pastel pink silk and linen double breasted blazer by Gieves & Hawkes
This beautiful pink jacket by Gieves & Hawkes is the height of luxury and the perfect summer mixer-blazer. Wear with white, blue or navy tailored trousers to the office or for summer garden parties to channel some confident and sartorial style, courtesy of Savile Row itself.
3. Pale blue checked lightweight wool suit by Reiss
Opt for one of Reiss's ultra-modern, light blue two-piece suits to add a true summer staple to your wardrobe. Pair with other soft tones of lilac, pale pink, mint, and caramel for a truly versatile piece. This 'Audley' suit features a subtle check in the palest blue for a sophisticated effect.
4. J. Crew Ludlow suit in off-white Japanese woven seersucker
A modern, preppy suit by J. Crew, cut in a highly breathable and lightweight cotton seersucker, for an easily wearable business suit, the jacket of which also makes an ideal weekend blazer with chinos or jeans.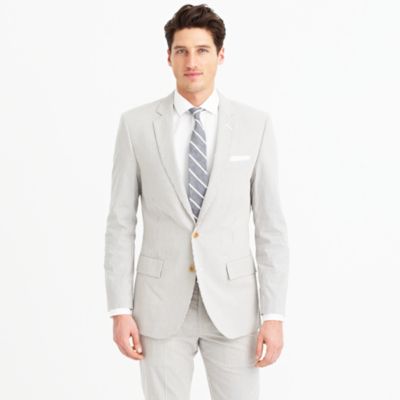 5. J. Crew Ludlow suit in fawn Italian linen-cotton blend
J. Crew wins through once more here, with this lovely cotton and linen blended suit in a warm, light brown hue. Cotton-linen blends are the perfect cloth for the transition from spring to summer and this Italian woven cloth is of reassuringly superior quality. The lightweight fabric is perfect for both seasons and combines the durability and crease resistance of cotton with the lightness and breathability of linen – perfect for when the Mercury rises.